About us
Premier Electric is a firm led by electrical engineer and professionals.
Premier Electric
is a combined experience in electrical and mechanical engineering for commercial, industrial and residential structures both HT and LT works. We are a team of knowledgeable and skilled project managers, project engineers, draftsmen, plotters and designers, superintendents, electricians who incorporate the latest electrical and hvac engineering, designing and construction technologies to build the very best, time and again. Within the region,
Premier Electric
has developed comprehensive guidelines applied to each project incorporating our high standards and measures of quality.
The professional team at Premier Electric has been dedicated to quality electrical engineering and customer satisfaction from the year of 2014.
Our Vision
Our vision is to maintain and exceed current quality standards through a process of continuous improvement. We strive to consistently perform in a manner that distinguishes us from our competition, to demonstrate our planning expertise, and to provide the service we promise.
Our Strengths
Premier Electric, ever since it was established, has consistently performed well and exceeded expectations by earning recognition from all its customers.
All the projects had been completed in time to the satisfaction of customer/end users by our dedicated team of engineers with expertise in their relevant field under the guidance of professional management team.
We are committed to complete all our projects as scheduled through meticulous planning deploying manpower, materials and machinery as per site requirement. Our team continuous co-ordinate with all other agencies in cross functional along with the support from the customer representative, designers, consultants and architects to complete the project in time.
Mr. Mohammed Farooq

Founder
Mohammed Farooq has been in the industry for the past 18+ years. After completing his Education, Farooq began his career in the year 1996 as a Project Manager which has no doubt given him the experience and position growth but he has earned appreciation and gathered immense knowledge about the industry in his career. Mohammed Farooq, Founder of Premier Electric is a professional best known for producing great results with his expertise in steering and directing all aspects of operations. Proficient in delivering quality Electrical Engineering projects on both large and smaller scales, he is a leader who inspires high productivity levels as well as guiding, training, coaching and motivating his staff.
- Mohammed Farooq.
Farooq has worked on major developments in the various cities in country which has been an achievement during his tenure hereunder is a list of some of the key projects and assignments.
People who strongly believe in providing positive economic development to all
The pillars of Premier Electric
Masood
Senior Electrical Design Engineer
Syed Waseem
Senior Project Engineer
Azhar Ulla Shariff
Senior Project Engineer
Rajesh P Naidu
Purchase And Logistic
Gayathri B
Planning And Estimation Engineer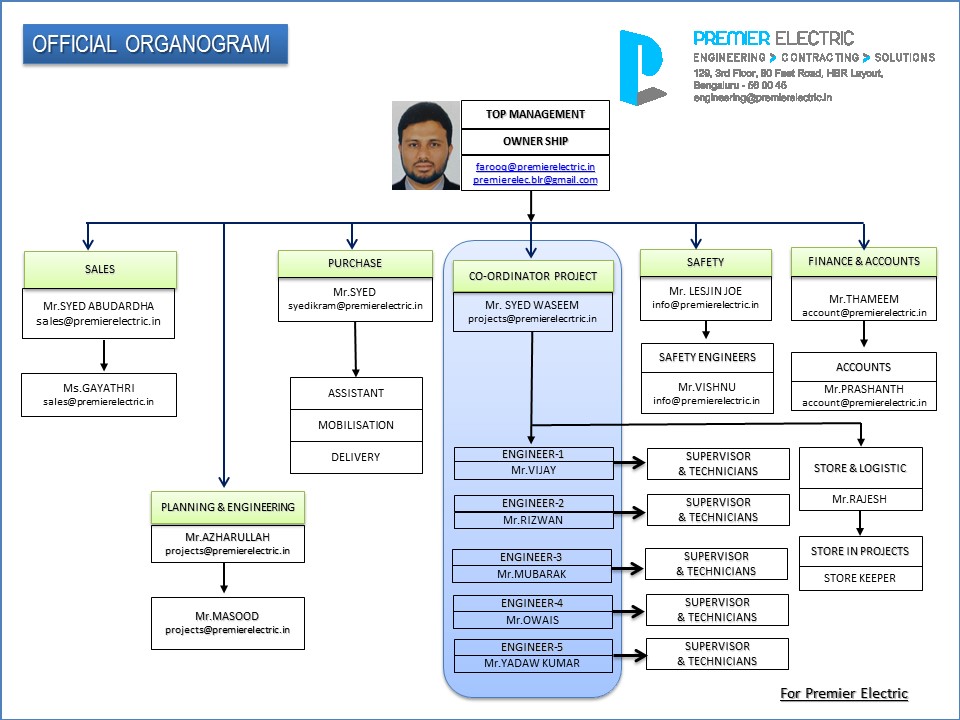 Premier
Electric